Learn New 2019 Instagram Features for Business Users like Poll for Sponsored Stories, Checkout , Shoppable Posts & Q&A Live features.
Learn New 2019 Instagram Features for Business Users
Lets look at the New 2019 Instagram Features for Business Users now namely Instagram Poll Feature for Sponsored Stories, Checkout Feature, Shoppable Posts Feature & Question & Answer Live Feature. We shall see in detail how this features is useful & learn how to use them with screeshots.
Instagram Poll Feature for Sponsored Stories
Story stickers in Instagram have easily been one of the best developments the feature has had since it was released a few years back.
And consider the number of updates and developments Stories have gotten since they've gone live, that's impressive.
What I'm going to call "sticker effects" have now come to Instagram's Story Ads, bringing interactivity to an ad format that previously really only was limited to "click here" as an option.
When creating a Story Ad, advertisers will be able to add a polling question to the image or video they're using during the Creatives portion of the creation process.
You can ask users a question, and give them two choices to choose between.
If you're running Story Ads, take advantage of this feature.
Users are now familiar with the polling feature from native Stories, and speaking from experience, many who watch are happy to engage.
I've had up to 70% response rates from the audience who viewed each Story, which is a pretty high engagement rate for almost anything on social media.
This is a great way, therefore, to start to build new relationships with your audience and grab their attention right off the bat.
They may not work quite as well for conversion-focused ads, but they'd be great for brand awareness purposes.
How to add Poll Sticker to Instagram Story Ads?
Advertisers can go to Ads Manager, select Instagram Stories as their only ad placement, and check the box for "Add an interactive poll" when uploading their creative and editing their text.
Instagram Checkout Feature
Instagram's Shopping posts have been a huge asset to businesses, allowing them to tag products in their pictures, which can then send users to the product's page on your website to purchase.
Now, they've taken this a step further, taking a leaf out of Pinterest's book, and have released a native checkout feature.
Users can actually checkout right from Instagram without ever leaving the app to a web browser.
This will be a huge advantage; the easier it is for customers to purchase, the more likely they are to do so.
And since users inherently trust Instagram more than businesses they're not incredibly familiar with, this could help to make people more likely to purchase who may have been wary otherwise.
This feature is only in beta testing and available to a small number of retailers
But Instagram historically has progressed from these tests to a more widespread launch very quickly. More brands will likely be seeing this very, very soon.
Shoppable Posts
This new feature is a game changer for all ecommerce businesses!
Have you seen those post on Instagram that when tapped, show the price of a product and actually lead you directly to the checkout page for that item?!
Yes, it's real, it exists and you can have it on your account!
This feature is exclusive to people who sell physical products but doesn't require any certain amount of followers (unlike the swipe up feature in ig stories!)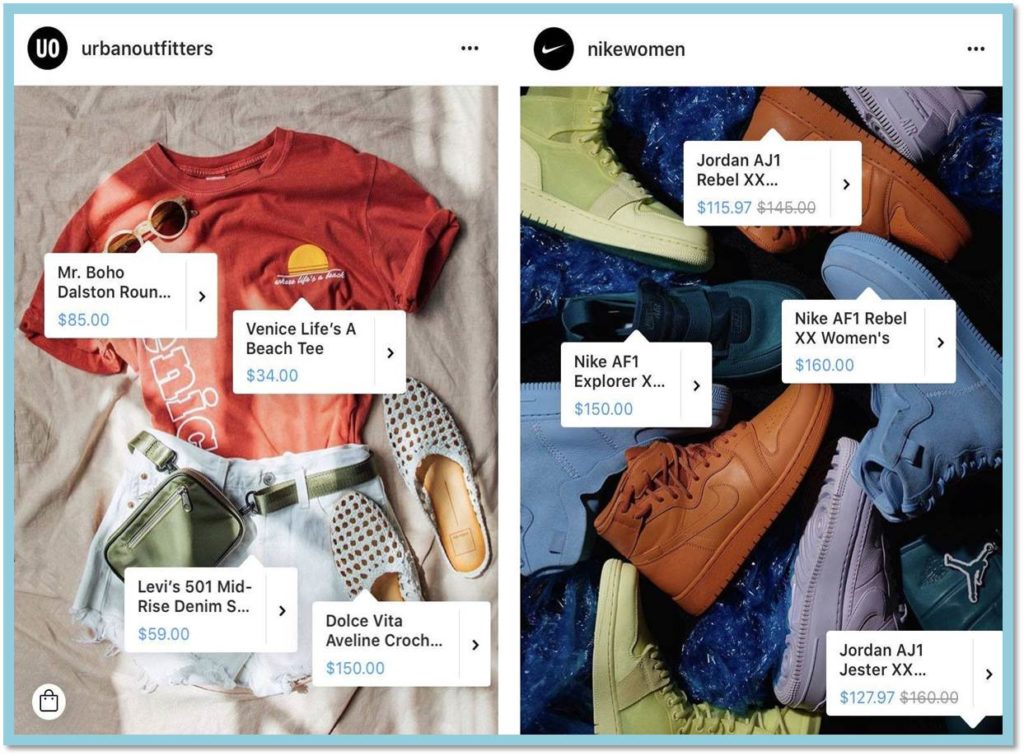 This feature can easily increase your sales but don't forget that adding shoppable tags isn't the only thing that will help.
Make sure you're educating your audience about your product and it's benefits in your caption.
THEN (and only then) should you ask them to buy by tapping the link your photo.
Instagram Q&A Live Feature
We are all very familiar with Instagram live, but did you know there is a recent addition to the feature that basically combines the Instagram Stories question sticker & Instagram live?
Yes, answering questions during your Instagram Live just became so much engaging!
Normally it can be confusing or overwhelming when trying to sift through question in the comments during a live
But now a simple question box appears and interested users can pop their question in and it displays clearly and obviously so you never miss a question.
This features in Instagram Business accounts will be very useful for business events like seminar, training or caching sessions.
Your audience also can clearly see what question you are currently answering.
So regardless of when they join the live, they will know exactly what is going on!
How to use Instagram Q & A Live Feature:
Step 1 :
You have to post a question to your story, as you normally would.
Step 2:
You'll then want to wait a few minutes for some questions to come in.
Then start your Instagram live by navigating to your stories camera and scrolling over to the live tab.
Step 3:
After you start your Instagram live you'll see a question mark icon on the bottom left. Tapping this will reveal all of the questions you have been asked. Simply tap the one you want to answer and start talking!
New Instagram Features like Close Friends, Alt Text, Hashtag Impressions are also very useful for Instagram Business accounts.
Close Friends can be used every effectively to offer discounts& certain extra benefits to you most loyal & engaging customers. You can keep them more engaged & generate more repeatitive business them only. Remember 80:20 principles shall apply here too. Your 20% Customers give you 80% of the Profits. Focus on them & add them in Close Friends.
Image Alt Text is very critical to appear in search results. So using this features will help your prospects to reach you.
Hashtag Impression features gives you insights into which tag got how many impressions & accordingly you can use some of them more frequently.
We have already covered Close Friends, Alt Text & Hashtag Impression Insights in our earlier blog. Do read it here.
You can also check out video showing how to use business features
Do comment on which feature you feel is most useful to your business.
Let me know some topics on which you would want us to write a blog.
Do share your comments & views on this blog.
Share in your social media & friend circle too.
Cheers,
Hemant