Learn How to Use New Instragram Features like Close Friends, Alt Text, Hashtag Impressions,Post on Multiple Accounts, Countdown and Question Stickers.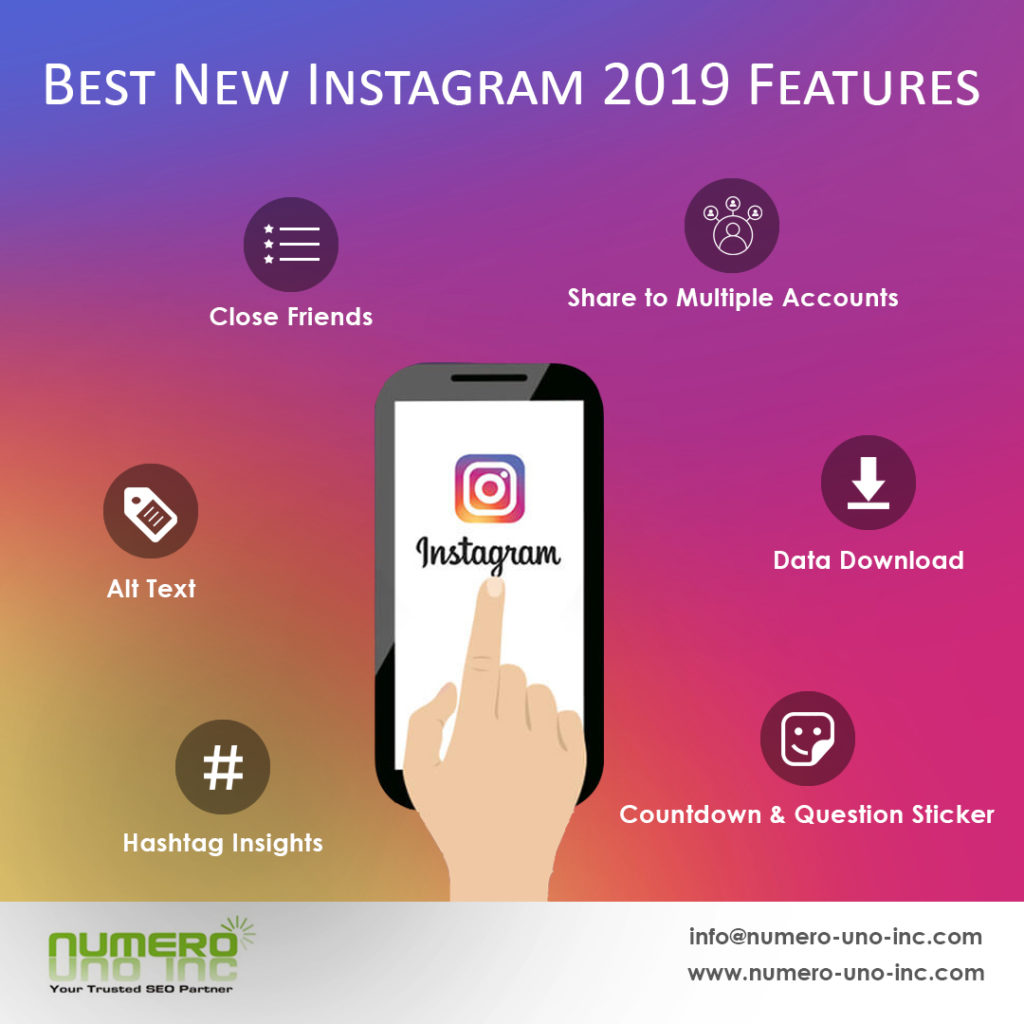 Instagram is basically a photo sharing app. And it is best at that among all other social media sites in it.
Instagram releases new features very often & sometimes it is hard to keep up with new Instagram features, it seems like they are releasing them almost every other day.
They have introduced so many filters and recently released a string of updates, some of them crazy, some very interactive, and few that are really very powerful.
Instagram Close Friends Feature
Have you ever wondered how to reward your most engaged followers? Well instagram has already got a new feature for this – Close Friends feature!
This new Instagram feature allows you to compile a list of people that you can send exclusive stories to, separate from your other followers. You can create a list of your actual, closest friends and start sending each other secret stories, or you can use it with business in mind and put your most loyal followers or past customers onto the list. From there you could send them exclusive offers, sneak peeks at new products, or any other "insider" information you want them to know about your brand!
How to use Close Friends Feature in Instagram:
Navigate to your profile and click the hamburger icon in the top right.
Select 'close friends' and select the people you would like to be added to your list.
From there navigate to your Instagram story camera and create some exclusive content.
When you're ready to share, tap the 'close friends' icon in bottom right to make sure your story goes to those people only!
Note: you can make changes to your list at any time and other users (inside and outside of the group) won't be able to see the list.
Instagram Alt Text Feature
Most people who are into blogging, website design, or SEO or even been interacting with their digital marketing team are well aware what alternative text descriptions are, and yes, they are pretty much the same thing in instagram too.
Alternative text descriptions are exactly what they sound like: you place a description of what is happening in the image or video.
Users with screen reader apps will have the text read out loud to them, giving them the right context of the image even if they have trouble reading it or understanding the image.
Instagram's alternative text descriptions are making the visual platform more accessible to visually impaired users, and it has with two options:
You can rely on Instagram to create automatic alternative text, which uses very impressive object recognition technology to create audio descriptions on their own.
This may be nice feature but may not be accurate & can sometimes backfire.
You can alternatively manually create your own custom text descriptions
Though cumbersome, but it is the better option, because it allows you to ensure that the description is accurate and that it highlights specific things you want to showcase. I always recommend to not rely on technology completely.
How to use Alt Text Feature in Instagram:
Navigate to your profile and click the plus icon to add an image.
Select the image and click next.
Beautify the image with filters & edit option .
Click next & go to "Advanced Settings" at the end written in small letters
Click "Write Alt Text" , type the Alt Text you want & then save


Instagram Hashtag Insights
Instagram recently introduced "Hashtag Insights" feature to track exactly how many impressions you are getting from individual hashtags!
I think it is safe to say we have all been eagerly anticipating this update.
Earlier we would get a large number of impressions generated from hashtags which made it difficult to pinpoint on what's working and what isn't.
This new instagram update will make it exponentially easier to determine which hashtags are working for us and which ones need to go!
How to use Instagram Hashtag Insights:
Navigate to a recent post, tap the 'view insights' button
Scroll down to the impressions section.
Scroll down to see the 'impressions from hashtags' section. Here you'll see the exact hashtag and how many impressions it brought!
Instagram Share to Multiple Accounts Feature
Some months ago, Twitter forbid exactly this feature, and now Instagram has rolled out a new feature to make it possible on theirs.
Successful ones learn from other people's mistake.
Instagram has slowly rolled out a new feature that allows users (including personal accounts) to share a single post to multiple of their linked accounts at the same time.
This feature is only for feed posts, not for Stories yet.
Ideally, it is a better to create unique content for each account you are sharing, but if you have sister accounts for some reason that benefit from overlapping content, this can benefit you.
Examples of this would include an account that has a sister company, like a fashion brands separate men's and women's accounts, or if you are doing seasonal marketing for multi location brand  and each location has its own Instagram account
How to use Instagram Share to Multiple Accounts Feature
Navigate to your profile and click the plus icon to add an image.
Select the image and click next.
Beautify the image with filters & edit option.
Before sharing the image you can select the desired accounts
Instagram Data Download Feature
Instagram, can be very unpredictable at times. That is why its  new "Data Download" feature is such a revelation! Many a times when you migrate to a new phone, migrating data from key accounts become a herculean task. Instagram Data Download is just for this very purpose.
If you want to back up your Instagram account to ensure you never lose any the content on your page, you should definitely check this one out!
How to use Instagram Data Download Feature:
Go to your profile then hit the hamburger icon at the top right.
Select 'settings' at the bottom of the screen, then find and tap 'download data'.

Instagram will ask for your email address, which is where they will send a file with your photos, comments, profile information, and more.
You'll eventually receive an email from Instagram with a link to download your data. This data is only valid for four days so make sure you access the files in that time frame or you'll have to request the data again.
Instagram Countdown Clock Sticker Feature
The Countdown Clock Sticker is brand new & exciting feature.
You can create the date and time you want to be counting down to, add it to the sticker, customize it with text, emojis, and color schemes, and watch a live countdown clock form on your Story. Every time someone watches it, they will see a live countdown in real time.
Here's a few ways a countdown timer can come in handy:
Announcing an upcoming event / promo / opening / etc
Reminding your audience to sign up for a webinar
Creating urgency for limited time offer that is expiring
How to Use Instagram Countdown Clock Sticker:
Create a new Instagram story and click the sticker icon at the top of the screen

Select the 'countdown' sticker and enter a title.
Then choose the date and time your countdown should expire.
You can customize the countdown by tapping on the color wheel at the top of the screen. This will cycle through a variety of colors so you can pick one that matches your account, vibes or story!
Instagram Question Sticker
Instagram has been rolling our new sticker options quite frantically & Question Sticker is a very interesting addition.
The Question Sticker allows you to place a sticker on your Story that encourages people to ask you questions. They can respond right there on the sticker, and you'll see what they're asking. You can then respond publicly to the ones you want to share.
The new update allows Question Stickers to be available for live usage, making the question-and-answer session more immediate, more urgent, and more engaging.
This is an excellent way to make those Q&A lives more interesting for viewers while also making them easier to manage; trying to keep up with all the live comments can be difficult and overwhelming, but this will make it easier to sort and you can even show the question on the screen while you're answering the question, keeping everyone up to speed even if they are joining you halfway through.
How to Use Instagram Question Sticker:
Create a new Instagram story and click the sticker icon at the top of the screen
Select the 'Questions' sticker
Then ask the desired question to your fans/followers.
Hope you have liked the blog post.
You can also see a video on how to use these features on our Youtube channel.
Don't forget to subscribe to our Youtube channel.
We shall see some more features of Instagram which are beneficial for the Business accounts.
Closed Friends feature is most useful feature in my opinion,  comment which feature you liked the most among the 7 we discussed here.
Do share the blog in your social media accounts & help it reach more audience.
Cheers,
Hemant
Do read our earlier blogs on Instagram & other Social media accounts like Facebook & Linkedin.