Learn How to Claim & Verify Your Business on Google & add More Locations. Know how to seek support from Google & Guidelines for Google My Business Listing.
Google dominates worldwide search market with more than 80% market share. Google has many a times reported that most searchers are looking for local service providers. The map & the 2-3 results that you see in your search query are the Google My Business Listings. This is a very important step in your Local SEO strategy. We will know more as you go through the article.
Firstly let us understand what Google My Business is.
What is Google My Business?
Google My Business is the free tool from Google that helps businesses manage their online presence across the search engine and its growing portfolio of utilities that offers the greatest impact for brands seeking local market share.
Most important first step in any local SEO strategy is to claim and verify your local business' Google My Business listing. Getting on Google My Business can increase your chances of showing up in Google's Local Pack, Local Finder, Google Maps, and organic rankings in general. Qualifying local businesses can claim this free listing on Google and include information about their company, like their address, phone number, business hours, and types of payments accepted.
Let us try to understand the importance of Google My Business Listing.
Importance of Google My Business
Google dominates world search market & mobile searches are increasing by the day. Most mobile & even other searches are to find a local service provider. Thus proper Google My Business becomes so very critical to your business.
Also Google My Business listings are above the 1st rank on Google search & hence are called zero rank. A zero ranking refers to the ranking of pieces of information appearing on top of the results from a search engine. Thus if you are not performing well on Google search, use Google My Business to rank above the search results.
As we understand the importance we should know the guidelines which Google expects us to follow.
Google My Business Guidelines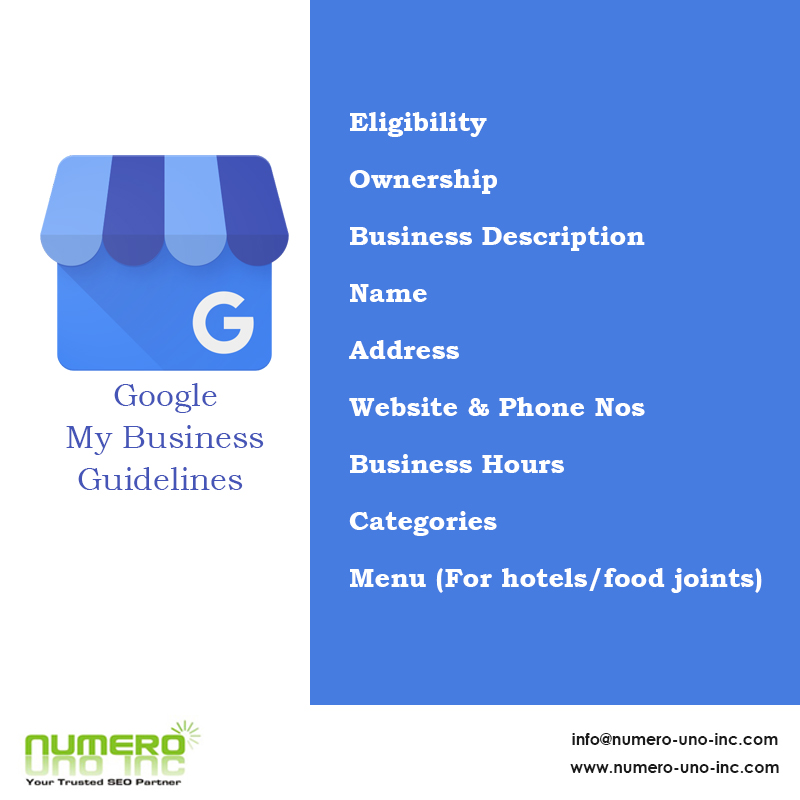 Listings on Google My Business can only be created for businesses that either have a physical location that customers can visit, or that travel to visit customers where they are. Creating a successful listing that won't be suspended requires avoiding prohibited content, accurately reflecting your business, and complying with the rest of the policies below.
There are specific guidelines from Google on all the aspects of the Google Business Listing namely-
1. Eligibility
Anyone who makes an in-person contact with customers, can have a listing
2. Ownership
Only owners & authorized representatives can have claim a listing
3. Business Description
This should highlight what make your Business Unique
4. Name
It should reflect your real world name
5. Address
Give precise address & location marker to be visible rightly on Google Maps
6. Website & Phone numbers
Should be accurate for customers to reach you easily
7. Business Hours
Do specify your working hours
8. Categories
Accurately define the categories your business is into
9. Menu
More important in case you have a Hotel or food takeaway joint.
You can read the complete list here – https://support.google.com/business/answer/3038177?hl=en
How to Verify Google My Business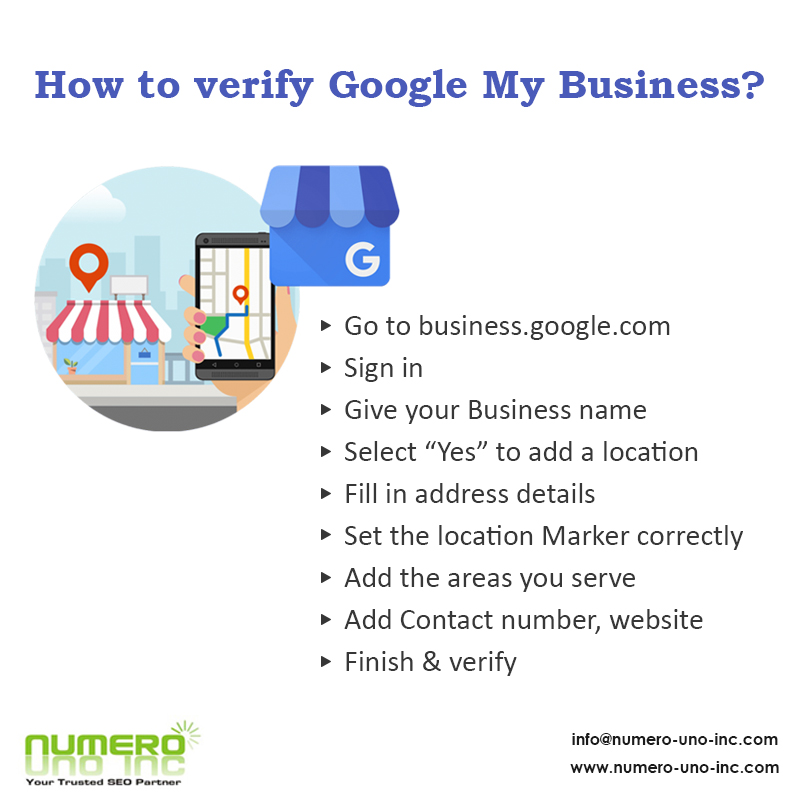 This is very simple; just follow the following steps-
Go to business.google.com
Sign in
Give your Business name
Select "Yes" to add a location
Fill in address details
Set the location Marker correctly
Add the areas you serve
Add Contact number, website
Finish & verify
Benefits of Google My Business
The benefits of Google My Business are multi fold:
More visibility in local search results.
More details for buyers & richer experience with photos, videos etc.
Increased traffic to your website, social channels
More Walk-ins & warm local leads
Better optimized Google My Business page helps Google to understand more about your business: who you are, what services/products you offer, where you are located at, and what is your website to get more details.
The more Google knows about you, the more types of searches your Google My Business listing can appear in.
How to Edit Google My Business Locations
To add or edit your business address, follow these steps:
Sign in to Google My Business here- https://business.google.com/locations
If you have multiple locations, open the location you'd like to manage.
From the menu, click Info.
Click the address field.
Enter your address following the guidelines above, and then click Apply.
How do I add multiple locations to Google my business?
To add a new location to an existing location group:
Sign in to Google My Business.
Click Manage locations. …
Use the drop-down menu to choose a location group.
Click Add location.
Enter the business name, location, and other details.
Follow the prompts to create the new listing.
How To Claim Ownership Of Google Business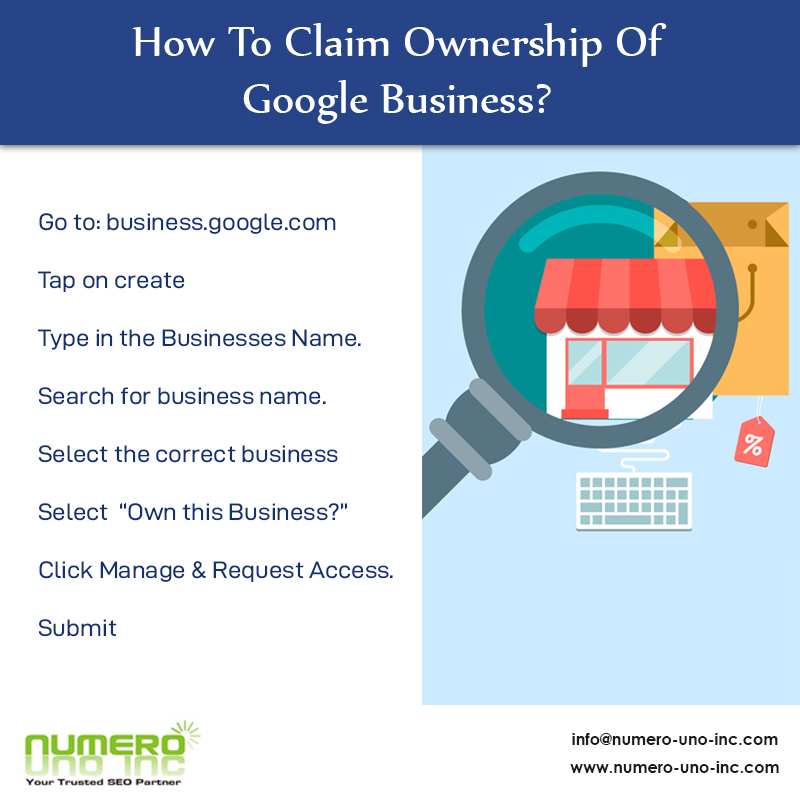 Steps to claiming or requesting ownership of an already verified Google business listing:
Go to: business.google.com
Tap on create
Type in the Businesses Name.
Search for business name.
Select the correct business you want to claim
Select the "Own this Business?"  just below the contact details
Click Manage & Request Access.
Submit – Google team will verify the phone number & or some other details.
After understanding the basics of Google My Business listing we shall learn about Google reviews in our next blog & then tips & hacks to optimize your Google My Business Listing in our upcoming blogs.
Do share your feedback with a comment & also other common issues on Google My Business that you would wish to seek our help. We shall try to revert asap.
Also share this article with your friends & colleagues & on your social media accounts which will motivate to keep writing.
Best regards,
Hemant