Digital Marketing in Times of Crisis Covid19 Corona Virus is a tricky question right now. We are all stuck at home for so long probably for the first time in our lives.  Daily news of more corona positive patients, & more deaths especially in western countries is very depressing. We hear many stories on likely job losses, changes in business dynamics, customers shifting or not buying at all, supply chain disruptions & so on. We have many questions and very few answers at this moment.
Importance of Digital Marketing in a Crisis
Business owners & other marketers have a dilemma on how to balance sensitively how to increase ways to generate revenues & still have very little expenditure.  This is where Digital Marketing becomes even more significant.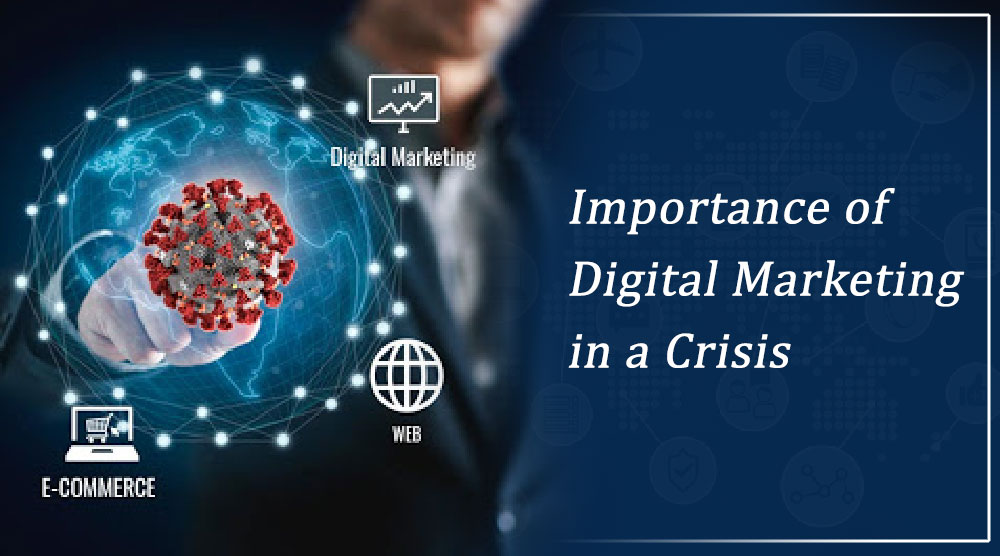 Customers are at home & you can reach them on either through TV ads or through their mobile via digital media. Not all products can be sold or advertised on TV & hence Digital Marketing is the optimal option in this situation.
There is another reason for the importance of Digital Marketing in this Pandemic. Going ahead there are likely to be restrictions, less travel, some social distancing & more conscious expenditure on part of customers. Discretionary or Luxury expenses are likely to be avoided by most customers for few months if not years. But luxury for one is necessity for others. Digital Marketing will help you reach your Target audience even more precisely than any other medium.
Some Positives in The Covid Lockdown
Being able to spend quality time with family is one big positive which all of us are having.
Another big positive I see during this crisis is the Availability of Time for the entrepreneur to think about his business strategically & longterm. He can analyse his business from all directions & be one up on his competitors by planning longterm.
In Digital Marketing too an entrepreneur can do a lot of long term planning with respects to
Where are his customers?

What do they want?

How he can serve them better ? etc..
Digital Marketing Steps In The Crisis of Corona Virus
With every challenge come newer oppurtunities. We will have to rethink & find out a way around this corner too to sail through.
Few Steps which he can take in Digital Marketing in this Covid Crisis are –
Sell Online

Easier it may sound but selling online is difficult. It is very different from the normal mode of selling – Attention spans are less, too much information, difficult to stand out. Still If you can somehow make your product or services be sold online then you should try. This crisis has made us all used to work from home & this is going to be a New Normal. Your will have to be more visible were your customers are & also stand out against competition. Web series, Online Education have all seen large sales in this Lockdown. Other businesses will have to find a way out. Even B2B businesses will have to get used to this. I understand B2B customers cannot make a purchase online but you will have to bring them as close to a sell as possible. Allow them to Download  your Brochure, Enquire Easily, get to chat with you on Whatsapp etc..

Spread more Locally 

I have been a big advocate of this for long. Google searches have always recommended local business even more so in their Maps. With Travel restrictions likely to persist even after lockdown is lifted, local sales will be key to survival in the near future. Infact I would go to an extent that some will have to Go as much Hyperlocal as possible e.g. people are likely to purchase form local grocery shops than go to a Dmart now. Similarly Manufacturers & Exporters will have to increase efforts to sell Locally within their City, Region, Country etc.. Earlier free flow Globalization will take some time to be back.

Concentrate on Key Markets 

This is another point I like to stress on. Revenues have dried up for most businesses. Cashflows will be under pressure & thus your Marketing will have to live with a lot of Constrains. You will have to use all your wisdom to decide to focus on few markets where you are likely to get max customers or returns. Pareto principle analysis of your earlier sales will give you such insights. i would recommend to concentrate on 2-3 or max 5 marketing zones going forward for few months.

Add more Value

Keep adding Value & Cheques will keep flowing is one of my favourite quotes. You will have add some More Value to your customers going forward. Add Value even at a little cost to profitability as Loosing a Customer is going to Cost you even More. Adding value can be as little as like writing a Blog to having a youtube Video about your product usage to some Freebies & even Discounts.

Think Longterm

Everyone is likely to see some pain in near future & is likely to focus on short term goal like revenues, cashflows,  paying for monthly expenses etc.. I would suggest to go for the Longhaul. People who think Longterm & take actions accordingly will emerge stronger. Retaining existing Customers, Upskilling to new technology/Process, Diversification into new products/verticals etc. are going to be the real differentiators between Winners & loosers.
Tough times don't last but Tough People do. This is a tough time for all of us and some are having much more hardships than we are having.
We cannot accurately predict the future but we can prepare for it though.
Hope this article gives you some insights & takeaways to reorient your Digital Marketing initiatives.
Do feel free to contact us for more details & or individual consulting.
Do share your views & comments below to encourage us to write further.
Please share this article with your friends, family & your social media connections.
Best regards,
Hemant