Learn How to Use Instagram Effectively for you & for your Business. Know 7 Tips to Use Instagram. Tips to use Instagram for Marketing. Learn to Use IGTV.
How to Use Instagram Effectively?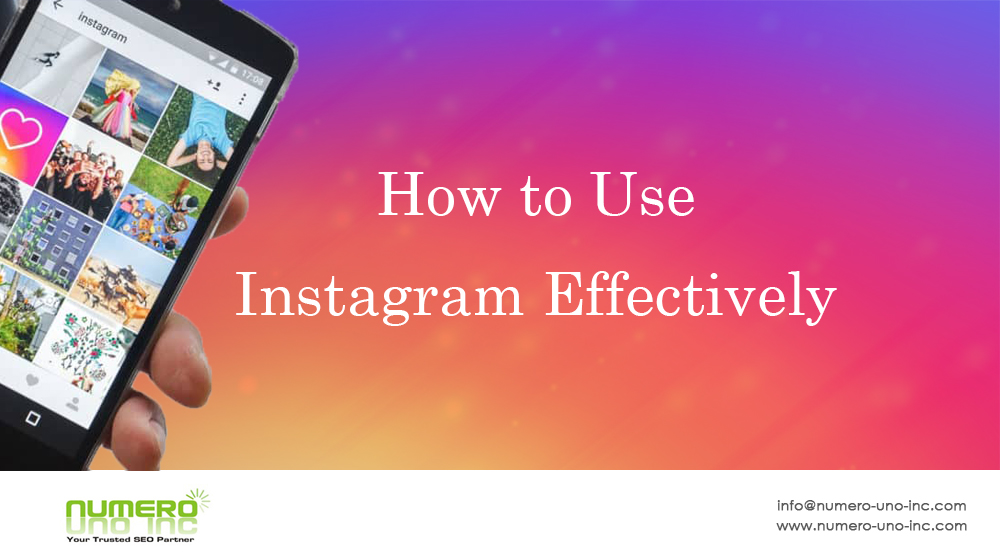 Instagram is getting bigger and bigger. Infact it crossed a 1 billion users in June 2018. With most celebrities and brands among those sharing images on Instagram app. If you have not started using Instagram, it can be a bit overwhelming, so here we take you step-by-step through how to use Instagram
7 Tips to Use Instagram
Follow these great simple tips to learn how to use instagram effectively
Use interesting & colourful pictures
Do not overuse Filter effects
Post Often to engage followers
Use Hashtags rightly
Use Explore Tab to find new content
Engage Loyal followers
Use Instagram Trends
How to Use Instagram for Your Business
If you are a business then it's better to switch to Business Account.
There are some clear benefits to having a business profile.
For example, followers can click on your contact button or visit your website to get in touch with you right from your Instagram page just like they would from your website.
Instagram ads have become commonplace on the platform. The best part? You can control exactly how much you want to spend on them by setting an ad budget.
You can showcase just one sponsored ad or multiple ads with the carousel feature.
This gives brands the ability to target their audience in a whole new way. Before sponsored posts, only users following your account could see your updates and photos.
Now, brands can promote their photos to anyone that fits their target audience to increase their reach further than ever before.
     Optimize Content & Hashtags
If you're looking to create instant engagement, interactive hashtags are a great way to get it.
Red Bull has racked up over 299,612 posts featuring their tag, #itgivesyouwings.
Customers can then use the tag to post user-generated content. This allows users to search through all posts relating to your brand.
Creating a hashtag that your company (and other users) can search for is essentially free advertising.
More than 400 million people use Stories daily.
If you want to generate leads, Instagram Stories are here to help.
Instagram stories differ from regular Instagram posts because they come in a "slideshow" format.
They're only live for 24 hours, but Stories can be saved to any of your devices and reused at a later point.
Brands can use stories to capture behind-the-scenes insider posts that may not be as "high-quality" as regular posts.
Use Highlights to showcase your key stories. These will stay till the time you remove them.  E.g on our Instagram account (https://www.instagram.com/numero.uno_1/) we have highlighted 3 stories – Web Design, Mobile Apps & SEO Services.
Tips to Use Instagram for Marketing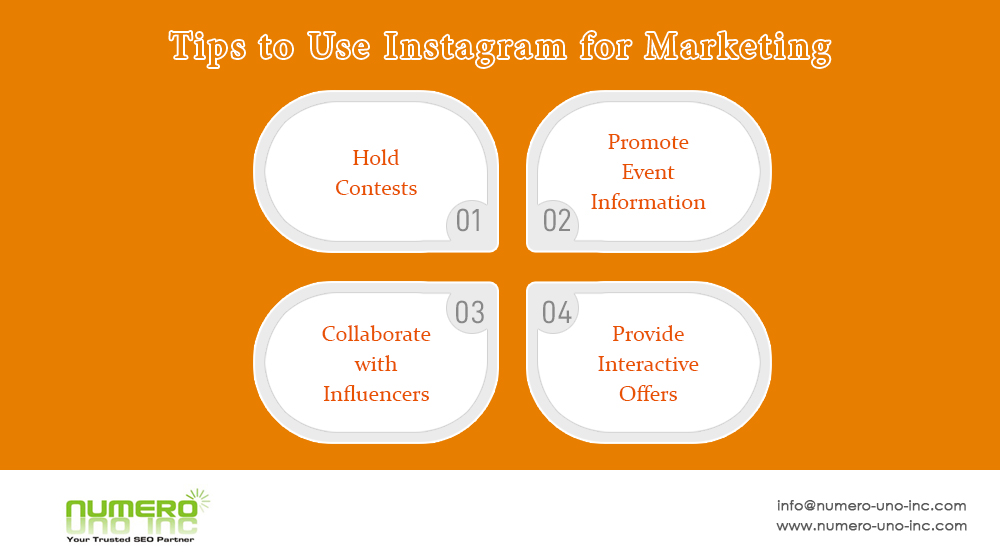 Companies can easily ask users to use a particular hashtag for the contest by tagging their pictures. It's easy to search through pictures, ask other people to vote for their favorite pictures and pick a winner.
Promote Event Information
The goal of any event or trade show is to attract people to teach them about your product and service and hopefully turn them into customers. Instagram can help with that goal to give event attendees a visual and location for your event.
Collaborate with Influencers
Request ambassadors, influencers etc. to collaborate with your brand so that they can help spread the benefits of your brand to all their followers.
Offer Promotions and Exclusive Announcements to Followers
Excite up your followers' feeds with bonuses, special offers, and insider announcements. Since 41% of Instagrammers state that they follow, or would follow, a brand to take advantage of perks and giveaways, give followers that incentive.
How to Use IGTV
In earlier blog we have described "How to use Facebook Live" & IGTV is another upcoming blockbuster from Facebook (which includes Instagram & Whatsapp) family.
The point of IGTV is that Instagram users can now make longer videos, which can potentially become more-engaging content for followers.
And IGTV truly could not be simpler to use. In the Instagram app, you just click that new little button at the top, and IGTV boots up automatically.
You could make your IGTV channel resemble traditional television by creating an hour-long series and uploading videos once a week. Or half-hour-long sitcoms. The possibilities are endless.
IGTV is launched to compete Youtube & we are headed for interesting times ahead as the battle intensifies. Wewill keep track of the developments & share with our subscribers.
So hope by now you have understood How to use instagram effectively.
Do share your comments & views to help us better our content.
Also do share the article with your friends & your social media network.
We at Numero Uno always strive to Build Digital Assets for our customers and & also increase their values.
Also we analyze their competitors, target audience & geography to have a customize strategy for building Digital Assets.
Do reach us at info@numero-uno-inc.com or at 9892378825.
Kindly read our other blog articles on SEO, Adwords, Social Media etc.