Learn How to use Facebook Live- What is Facebook Live, key features & Plan your Facebook Live Broadcast. Learn 6 Tips for Sucessful Facebook Live Broadcast.
What is Facebook Live?
Facebook Live offers the ability to broadcast live video with audio to your profile page, business page, or group directly from your smartphone or tablet.
Organic reach of live video on Facebook issky-high! You will see far more organic reach than virtually any other kind of post on Facebook.
It is a free service; Facebook just gives it to you because they are rewarding you for doing live video..
It gives you additional impact on the replays; often even bigger than live.
Facebook wants viewers to get used to seeing live video, so they're showing it to a great deal of your audience.
The more people who see your great content, the more people will share it. So you'll have even more impact.
Key Features of Facebook Live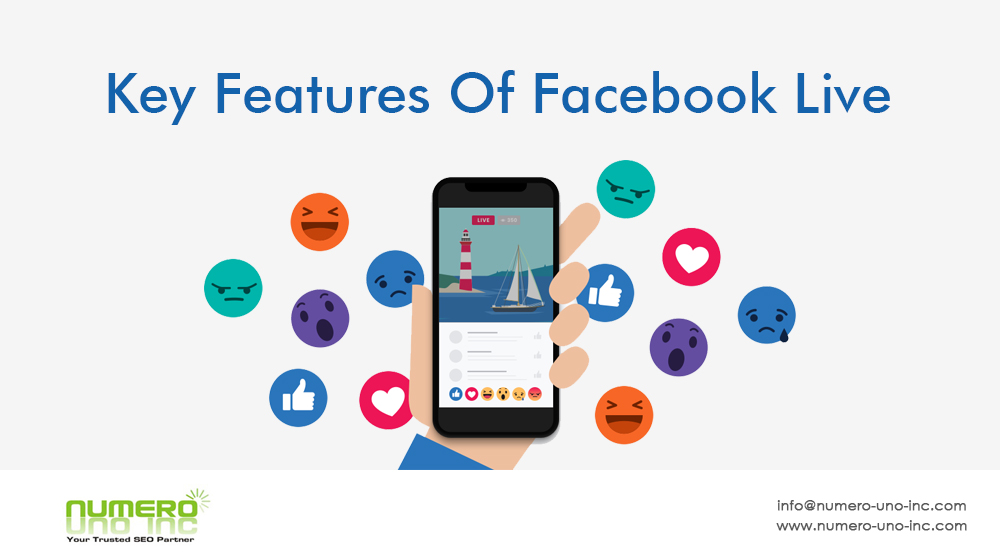 You can broadcast live to Facebook from your smartphone or tablet using your device's built-in camera and microphone. (Or add a plug-in microphone for better audio).
You can enter a catchy title before you begin your live broadcast
Followers can subscribe to your videos and be notified when you are live
You will be able to see the number of people who are viewing the video live
Live Reactions help you gauge how your broadcast is going
Viewers can comment, both during your broadcast, and after the fact when they are watching the replay. You can read and respond verbally to viewers' written comments in the chat as they appear during your live broadcast.
After the broadcast, it remains on your page unless you delete it. You can go back into the comments and respond to anyone you might have missed or who watched and commented during the replay.
How to use Facebook Live?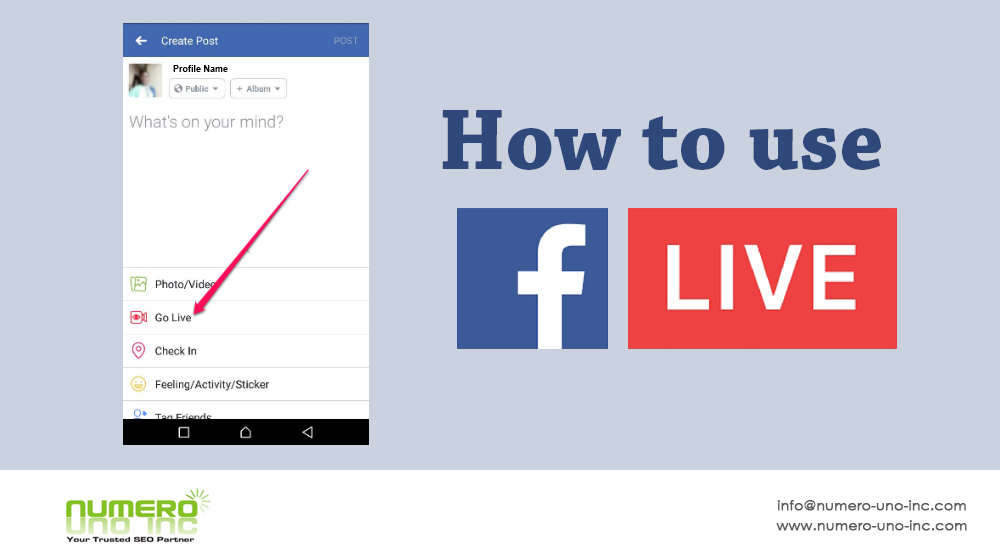 Go to "Whats on your mind?" or post option
Select Live Video icon
Write a Description for your video.
Choose an audience public, fiends, page etc..
Tap go Live & start your live Broadcast
Plan your Facebook Broadcast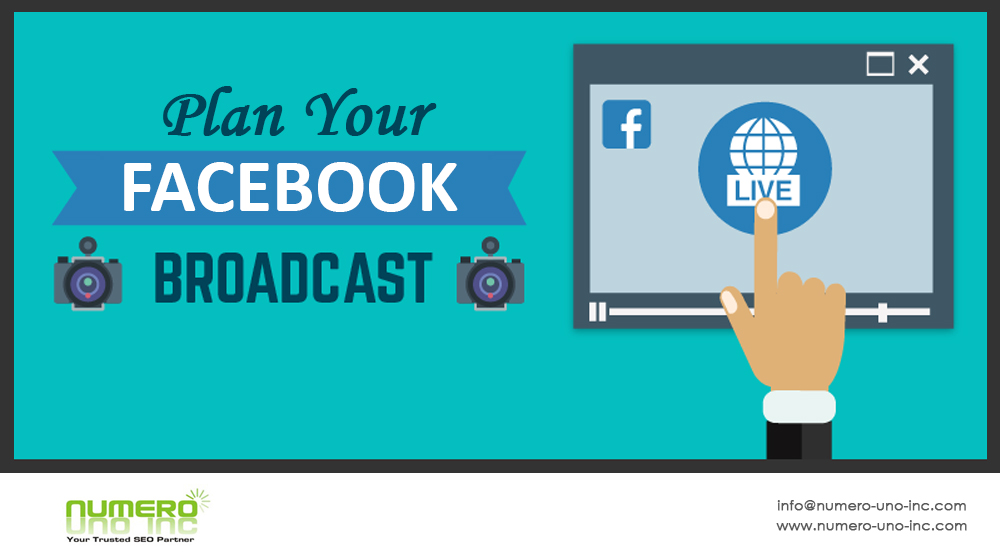 Determine your content:


 It MUST be high-value; your best stuff. It should inform, educate, and/or entertain. Take viewers "behind the scenes."

Decide the style of broadcast.
 Will it be you solo?
Weather you Will you have a live guest?
Will you do a demonstration?
Pick a location


for your broadcast

Jot down bullet points

but do not script it!

Schedule

your broadcasts in your calendar.
Final Preparation for your Facebook Broadcast
Compose a title – combine curiosity, interest, and/or compel.
Start the Facebook app, get to the Live setup screen, and paste in your title.
Make sure you have good lighting
Have your smartphone mic plugged in and your tripod rightly
Decide which camera you will start on: forward-facing or rear-facing
Position your bullet points just off-camera
Tips for Successful Facebook Broadcast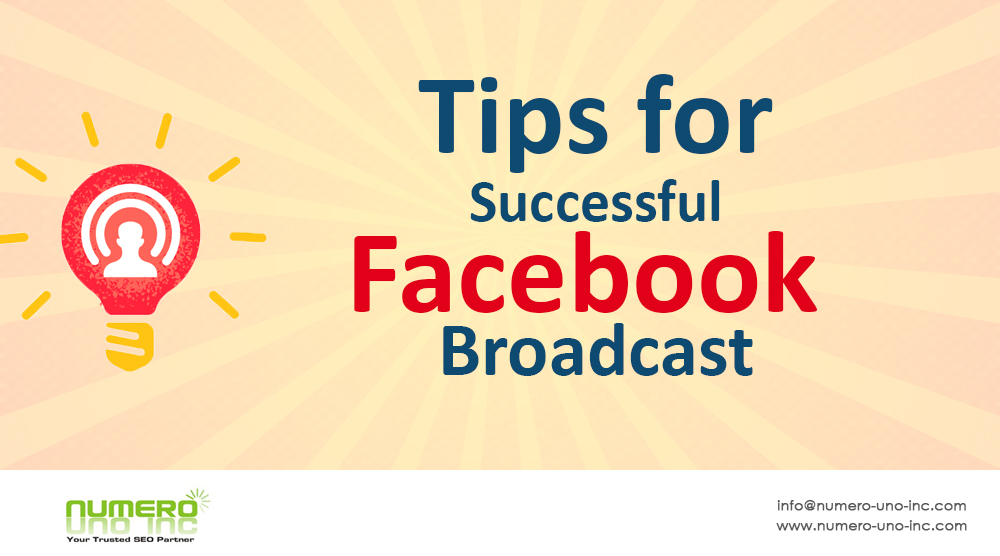 Broadcast on Pages rather than your profile
On facebook we have everybody connected to us namely family, friends, clients, neighbours, acquaintances etc.. Not all facebook friends would be keen to on your live feed if it is of some specific topic. On a page, people with similar interest would be available. Hence we recommend to use your page on Facebook to broadcast. Thus others will not be disturbed & you can engage more effectively with your viewer.
Make the Video Long Enough to Stick
The longer the broadcast, the more people that can join in the stream, and spread it on to their friends.
Facebook themselves recommend that the videos "go live for at least 5 minutes", and many publishers and public figures have well exceeded that time limit recently.
Facebook live broadcasts can be upto 4 hours. Use it rightly to increase your viewers & engage them. Longer duration allows viewers to invite their friends. This increases your reach.
Show Something Genuinely Interesting
When streaming live, it can be tough to get the balance right between being interesting and staying live for long enough to build an audience.
Disturbances in Wifi connections & camera angles should be avoided.
Celebrity pages have a head start when it comes to gathering an audience for their live streams – their names are often enough to guarantee a rapt audience, even if it's objectively boring footage.
Publishers need to put in a little more effort to ensure that what they're producing hits the target audience.
Engage with Viewers
While there's a stream in progress, reacting to viewers should be a priority.
Another person from the  social media team should be on the task to pick out the best questions and comments for mention during the live broadcast, and to see how people are reacting the different parts of the broadcast, to try and learn what content engages the viewers most.
Promote the broadcast Across Social Media Platforms
Telling the rest of your social media connections that a live broadcast is about to start is always a good idea.
For most mobile viewers, it is a simple switch between apps. Publishers in particular can harness the real-time potential of Twitter here by using trending hashtags to get even further with their message.
Encourage Viewers to Subscribe and Engage
Always key to ensuring you will have viewers next time around, remind viewers to subscribe to your feed to get future updates.
Likewise, encouraging viewers to leave comments, particularly in the form of suggestions and questions, ensures that the live video ranks higher in news feeds, and ensures that there's a steady stream of questions to work with on the stream itself.
So i hope by now it is clear How to use Facebook Live
Do share your comments & views to help us better our content.
Also do share the article with your friends & your social media network.
We at Numero Uno always strive to and for our customers to Build Digital Assets & also increase their values.
Also we analyze their competitors, target audience & geography to have a customize strategy for building Digital Assets.
Do reach us at info@numero-uno-inc.com or at 9892378825.
Kindly read our other blog articles on SEO, Adwords, Social Media etc.
Check out How to increase your Facebook Page Organic Reach
Share this article with your friends