How to increase Facebook Page Organic Reach | Facebook Page Tips
Learning how to increase Facebook Page organic reach is fairly an easy technique that anyone can apply to earn great benefits on Social Media and share your content with everyone easily.
What is organic reach on Facebook?
Facebook's organic reach is a measurement which determines what number of people sees your organic (free not paid) content. By rightly engaging your viewers you not only reach them but also their friends & followers.
In this article, you will gain valuable insights on how to increase Facebook Page organic reach by following some simple tactics.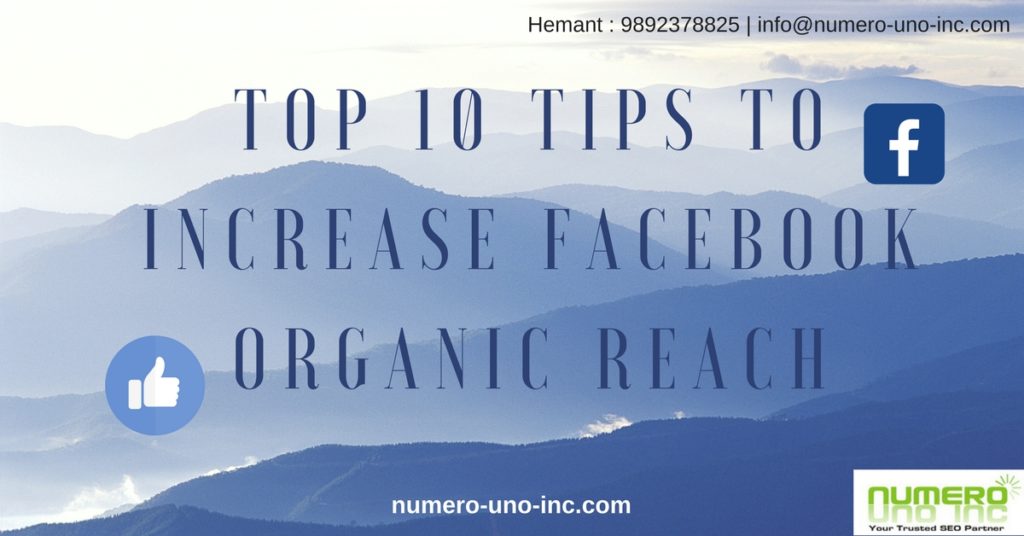 So how to increase Facebook Page organic reach ?
Below are some strategies listed that we applied which showed a good amount of improvement in our own Facebook pages which boosted our organic reach.
We hope that you apply these tactics to boost up your own page, too.
So let's begin!
Find unique and relevant content for your audience
It's essential that you post content that your audience wants to see.
If the content that you post doesn't click, your fans will not be able to engage with it. If your fans are not able to engage with it, then you're going to struggle with growing your reach.
It's extremely essential to select the right blend of content and post it in the right order. Simply speaking, you should post the right content to the right audience at the right time.
Every time when someone likes, comments, or shares that engaging content, they send indicator to Facebook that they want to view more of your content.
This in turn also helps to get seen more in the news feed when we post the links which goes back to your blog.
Only posting links is not going to help in getting the engagement you want.
Consider blending up the variety of your content.
The minute you discover the right formula for your audience, you'll keep them coming back for more!
Keep an eye on Facebook Insights
Test your content often. Check your Facebook insights. But don't just read the data also learn from it.
Your Facebook insights will tell you which post is performing better. Through this you will be able to distinguish what type of content is liked and shared by your audience, and accordingly you can create and post content based on the choice of your audience.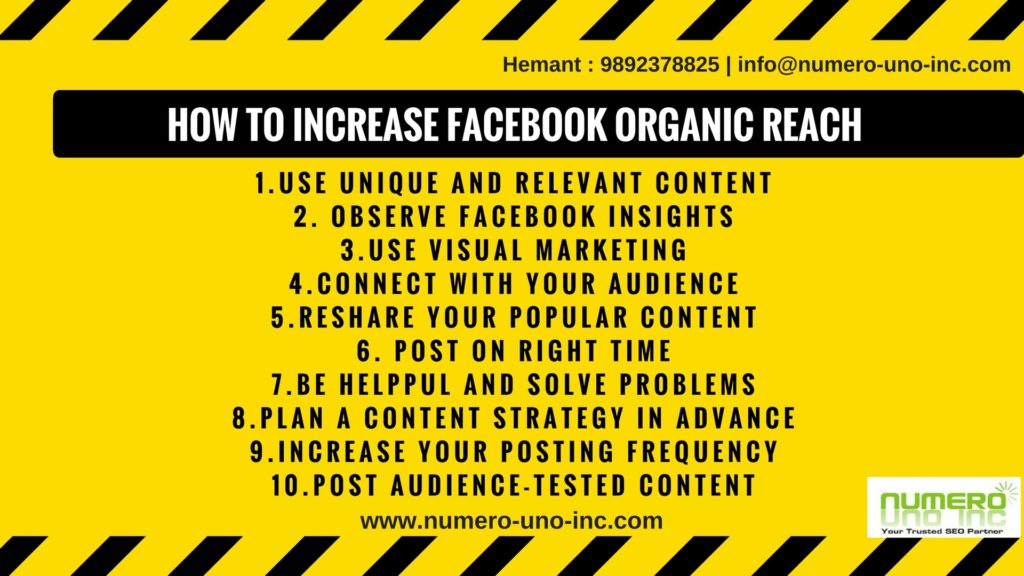 Make use of Visual Marketing
This involves more than just posting simple photos. Every social media marketer is aware of the power of using photos on Facebook. Buzzsumo reported that, Facebook posts that include images get 2.3 times more engagement than those without images.
Visual marketing can be utilized to tell your story and to communicate your brand's message. Visual marketing is becoming a force to be reckoned with on Facebook
Posting visual content is just not an option on Facebook, it has become a necessity. There are several ways to practice visual marketing in order to grow your Facebook page:
Create branded quote images.
Use tips from your blog posts and place them on images.
Make use powerful imagery to improve thought leadership in your niche.
Incorporate visual marketing to stand out in the news feed.
You can make use of online tools that are available, and you'll be creating branded images in a minute or two.
Communicate with your audience
People want to hear you comment back on their comments.
Real people want to connect with other real people. They like to know that you will be available to answer their queries.
Once they are ensured that you're listening, they'll be more likely to visit your page and engage with your content again.
Re-share/Recycle Your Evergreen Content
The content created by you which never gets old is termed as Evergreen Content. It remains relevant and useful to your fans.
There's a recycle feature within the Post Planner app which will help you to achieve this.
Be strategic about your posting time
Nobody knows what are the best times to post on your page except you. Facebook insights will help you in this case.
Posting at the right and relevant time can mean the either your post will be viral or it may not get noticed at all.
Posting at the right time creates the difference between virality and not being noticed.
The main point to keep in mind here is to take the decision according to your data.
Try to become a valuable source in your niche
Everyone must be having go-to Facebook pages we rely on for valuable info in our industry.
Those are the pages that every time has something remarkable to share; also they help us stay up-to-date about what's new happening in your niche.
Try to become valuable source like that for your niche.
How to achieve that?
Here are three steps you can apply today to start moving in that direction:
Solve the problems that people are facing in your niche. Be the SOLUTION.
Share other people's relevant and valuable content. While doing so, let your audience know that your focus is on them, not you. Share a part of content which will be useful to them (also if it doesn't move them back to your website or blog).
Share valuable tips and tricks which will help your audience.
Plan a content strategy in advance
When you plan and schedule your content in advance, you can be more strategic about every piece of content you post.
Here's a list of type of content that you can plan ahead of time:
Your own website or blog content
Other people's content
Branded images
Funny pictures
Facebook Live video
What type of content can you create for each one of those categories? Prepare and plan that content in advance.
By doing so you will able to save lots of amount of time. Also you will be able to avoid the stress of trying to discover content to post at the very last minute.
Try posting more than you're posting now
By increasing posting frequency on Facebook may help increase your reach.
You can test this strategy on your own page. Also keep an eye on your Insights along the way.
Post Audience-Tested Content
Whenever you post audience-tested (proven) content on Facebook, you'll be putting yourself up for triumph.
If a piece of content has already been effective and successful on Facebook, then likely the chances are, that it will be successful again.
You can apply this theory to several types of content.
For example, take a look at your Facebook Page Insights to view which blog posts have acquired the most reach. Those are posts which connect with your audience. Be sure to post those again.
Hope by now you have a clear understanding on how to increase Facebook Page organic reach .
Final Thoughts On Facebook Organic Reach
Increasing Facebook organic reach is becoming tricky day by day—but it's absolutely still do-able!
The tips mentioned in this post are exactly the things we did in order to increase our Facebook organic reach
We hope that these tips help you grow your Facebook page too and understand the process of how to increase Facebook Page organic reach .
Thank you for taking your precious time to read this post and happy Facebooking!
Also we, at Numero Uno, professionally handle your Facebook page to increase your audience & engage them more effectively. We have a keen eye on Insights & take timely steps to enhance your Facebook reach.
Kindly contact Hemant at 9892378825 or mail us info@numero-uno-inc.com.
Kindly read our other blog articles  on SEO, Adwords, Social Media etc..