What is Remarketing in Google Adwords?
Remarketing with Google's AdWords is a thrilling new way for you to grow your brand message in front of your target audience. AdWords remarketing lists for search ads (RLSA) is brand new feature which allows you to target ads at people who have previously visited your website, established on their behavior when they visited. RLSA display specific ads to the visitors on the basis of what they have seen on your website. For example, people who have conveyed more interest in your brand will view a different ad in comparison to the ones who just had a quick look on your site.
What can you achieve with the help of a Google AdWords display remarketing campaign?
You could be able to target former visitors who didn't convert or complete an action
Encourage repeat purchases from former visitors
Create more awareness of your brand with the help of display ads on the Internet
Let's see How to Add Remarketing Tag
Add the Google AdWords remarketing tag in your website. Also you could place this snippet of code to add into the footer location of your website to apply it to all of your pages.
Log into Google AdWords and click Shared library -> Audiences and Set up remarketing

AdWords will then ask you to place the tag to your website before you can generate a remarketing list. You can see the code directly on this prompt; you just have to copy and paste it directly into the footer section of your website. On the other hand you could email the code to your web developer4. When the code has been placed on your website, log back into AdWords and go to the Audiences tab. AdWords will then view and confirm if the tag is working:
Tip: You can install and use Google Tag Assistant add-on to check if all your tags are working properly
Now you're ready to begin with creating remarketing lists!
How To Create Remarketing Lists?
Go back to the Audiences tab click +Remarketing List.
Further you'll be able to generate a list by selecting precise criteria to meet the objectives of your remarketing campaign.
Give the remarketing list a name, and select whether you want to take in visitors to your website or mobile app.
Then you are required to define who you want to include in your list. From the drop down you can select from a variety of criteria to target visitors who have visited certain pages on your website. It will save you from having to generate or add different codes to your website.
For instance, if you want to exactly target users who have visited a page regarding your latest training course but didn't clicked on an enquiry form, you would then select the option Visitors of a page who did not visit another page:

Things to keep in mind before creating Remarketing Campaign 
In order to be suitable for a remarketing campaign, your list requires including at least 100 visitors which have visited your website previously within the last 30 days. It's essential to keep this in mind when deciding what lists to make, as your target audience might be too niche. A good place to begin with is having a look at your Google Analytics data to recognize how many visitors a specific page on your website has received in the last month.
Once you have selected the type of visitors you want to place on to your list, you will be required to enter the URLs of the pages they visited previously also the page which they didn't move on to. Ensure that you add a Rule set an exact match URL. Or else it will result in a group of users who have visited other pages, like the homepage:

Setting up an AdWords Remarketing Campaign
Let's see how to create a new AdWords Remarketing campaign.
1) Choose +Campaign from the All Campaigns in AdWords and select Display Network only: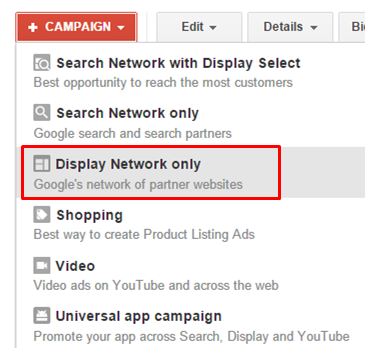 2) Provide your campaign a name and then choose no marketing objectives and All features.


3) Similar to the creation of standard Search Network or Display Network campaign, you can choose locations, ad schedules, also your daily budget from this screen. Though, it's vital to click Ad delivery: Ad rotation, frequency capping at the end of the screen. This selection will permit you to set a frequency cap: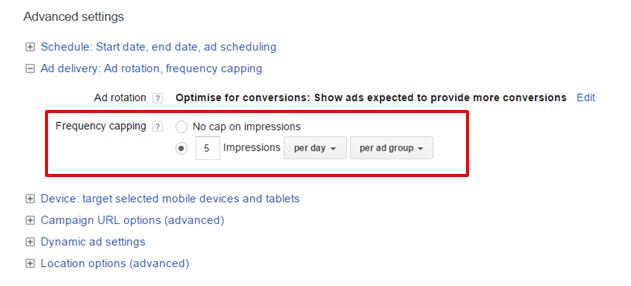 Tip: If you are into business of e-commerce you can take remarketing to the next level with Dynamic Remarketing. This option is accessible under Dynamic ad settings; this lets you to generate display ads which pull though products in which the visitors have shown an interest in before.
Final Thoughts:
In order to keep costs low, utilize Google remarketing along with contextual targeting, frequency capping, conversion filtering, and also other cost-saving strategies. This will let you to generate highly targeted remarketing campaigns and grow your ad relevancy, by displaying most of your ads to the visitors who are going to most likely to click and convert.
At Numero Uno, we manage your Google Adwords campaign professionally. We are handling adwords accounts for clients & generating leads from over 100 odd countries across the globe. We optimize your adwords campaigns to optimize for lower Cost per Click (CPC) & higher conversion.
Kindly contact Hemant at 9892378825 or mail us info@numero-uno-inc.com.
Kindly read our other blog articles  on SEO, Adwords, Social Media etc..