Learn how to Seek Google Reviews. Also know how to handle Negative reviews for Your business on Google. Report Fake Reviews to Google.
In earlier blog we learnt the basics of Google My Business & how to verify, claim & edit your listing. If you have missed the earlier blog you can read here.
In this Blog we shall learn the importance of Google reviews & how to get them as well how to handle negative & fake reviews.
How Important Are Online Reviews
Reviews are the lifeblood of local search. I will put them at par if not above having a testimonial from a client on your letter head & or on your website.
It is a really simple equation:
Good reviews = more sales. More good reviews = many more sales.
Let me illustrate with an example as below-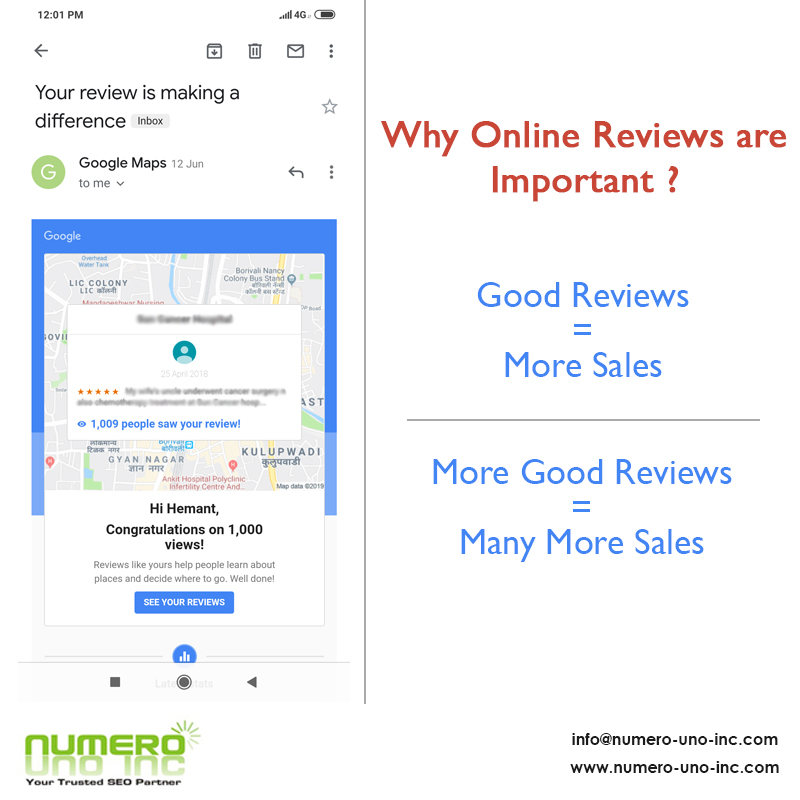 My Google review received more than 1000 views. Imagine the amount of visitors they have received if the review itself has received more than 1000 views. Also the 1000 views are in a period of less than a year & the review will be there for many years to come.
Bad reviews can also present you with an opportunity, take them as a feedback rather than anything else & accordingly try to improve your products & services.
Almost everyone likes a second opinion. That is reason why 90% of people read reviews before purchasing.
But that's not all.
How do I contact Google My Business reviews?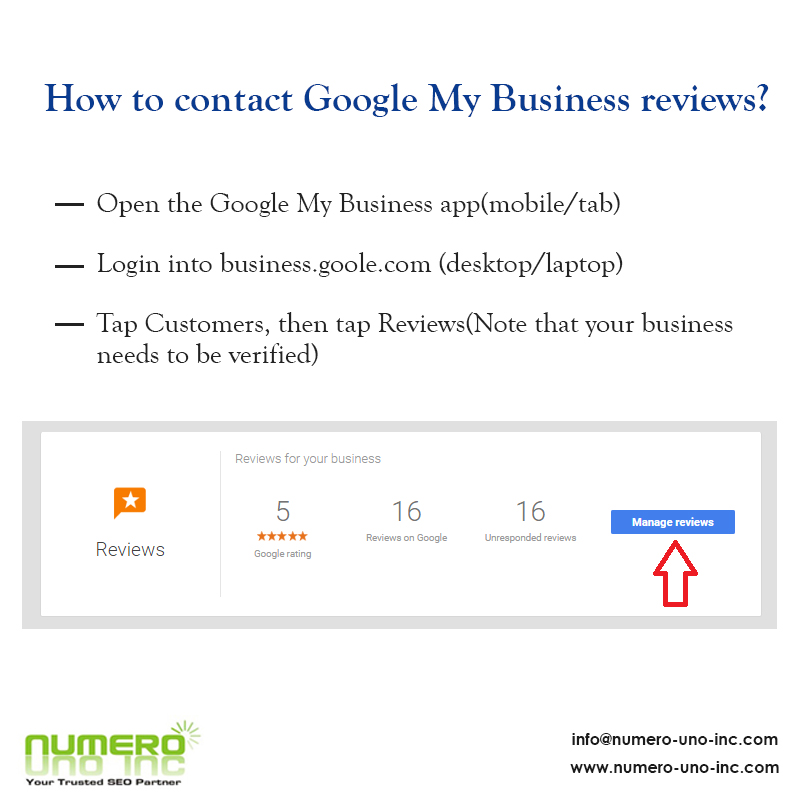 On your phone or tablet, open the Google My Business app
Or on desktop/Laptop login into business.goole.com
Tap Customers, then tap Reviews. (Note that your business needs to be verified in order to respond to reviews.)
How to Respond To A Google Review?
Go to Google Maps.
Enter your business name
Click Reviews.
Next to the review you'd like to reply to, click Reply.
The frequency of searches for reviews is increasing too. A recent study found, "53% of consumers search for local businesses at least one time per month."
But how do you get reviews from your customers?
It is very simple, You ask for them just like you ask for Testimonials. I would recommend to seek Google Reviews more than you seek Testimonials.
Some sites discourage this, but Google My Business actively encourages it.
How to Send Google My Business Review link to Customers?
Just follow the following steps –
Search for your company by name in Google
Click on the button  "Write a review"section
You will see a Google review box has popped up, copy the URL out of the address bar.
Shorten your Google review link
Send to your clients and start getting Google reviews.
How to Respond to a Negative Google My Business Review?
Google is an open platform & it will allow visitors to put a negative review too without you sending them an invite. Negative review can be a real nightmare & very difficult to manage if it spirals out of hand. Handle it with proper care & attention to nullify its adverse effects.
Here are a few steps I would recommend –
So you got a Negative Review. Do not Panic & lash out at them. It can be  more damaging.
Evaluate the Situation & genuinely try to understand the concern, there might be certain gaps in our products & services.
Respond to Negative  Reviews Quickly & put a Genuine attempt to understand the concern.
Take it as a feedback & make a genuine attempt to improve quality of services/products.
If It is a Fake Google Review You Want to Remove, Flag or Dispute it – Contact Google for it
Rectify the Situation as soon as possible & before it gets out of hand.
Stay on Top of Your Negative Review- with response, apology & rectifying the wrong
How do I contact Google about fake reviews?
As people understand the importance of Google reviews & try to manipulate it by giving fake reviews. Fake reviews have been growing & it is a real challenge dealing with them.
Below are few steps on how you can contact Google for the same –
Report the Review to Google Small Business Support on this link https://support.google.com/business/?hl=en#topic=4539639
Click on the home menu and select Support.
Choose a method of Contact – Phone or Email.
Fill in the necessary contact parameters,
Add a screenshot of the review in question, and wait patiently (you should hear back within 24-48 Hours).
I hope this blog was useful to you in understanding important things about Google reviews namely how to get them & also how to handle negative & fake reviews.
We shall learn about the tips & hacks to optimize your Google My Business Listing in our upcoming blog.
Do share your feedback with a comment & also other common issues on Google My Business that you would wish to seek our help. We shall try to revert asap.
Also share this article with your friends & colleagues & on your social media accounts which will motivate to keep writing.
Best regards,
Hemant