Learn Google My Business Tips Hacks to improve your Local SEO. How to use Google Business Name Description Posts Pics Videos to increase visibility & sales.
Hope you have read our earlier blogs on Google My Business
Google My business Tips
Here are some Google Business Listing tips which can be very useful.
Name & contact details
Have profile pic & cover pic
Map details
Description
Attributes
Post regularly
Have more reviews
Now we shall look at each one in more details.
Google My Business Name & Contact details
Using the right complete business name & having full contact details is always useful. Many people remember you by your company name & search on Google to find your website & contact details. You appearing for your business name is thus very essential to hold on to existing clients.
Also once they search & find your Google business page your contact details should be visible to them. Google has provided specific fields for address, email, telephone numbers etc.. Some prefer to directly call you while others prefer to send a mailer. So make sure all the contact details are rightly filled.
Google My Business Profile Pic & Cover Pic
As more & more business spring upon, it is difficult to distinguish or recollect from names. Some people may remember you by your face or logo of your company. So make sure that your profile pic has the logo or your pic to be more recognizable. I will illustrate with our own example, Numero Uno is a common name & often our clients recognize us on Google my business by our logo.
Use cover pic to create an image which showcase your services & products. Your business name can be similar to another which is not in your domain & hence you may receive or lose some enquiries. Use Cover pic effectively to highlight your products & services so that this can be minimized.
Google My Business Map Details
Google maps are how most of us navigate nowadays to reach a place. Make sure your Map details are rightly fed so that a potential or an existing client reaches you rightly. Driving in traffic is curse in most metro cities & many get turned off if the Google map is not rightly fed.
Google My Business Description
Once a person opens your Google business listing he sees the description. We should ensure that we write detailed description of the products & services we offer. The decision to connect with us is taken in a matter of seconds. What we write on the description is best opportunity we get on Google Business listing to elaborate on it & use this most effectively.
Google My Business Attributes
Attributes allow business owners to expand their business capabilities in ways that might not be apparent from the business category they have selected.
Do you have car parking?
Are you open on Sundays?
Let me illustrate with an restaurant/hotel example –
Does your restaurant have a patio or bar seating? Is it kid-friendly?
What are the amenities in your apartment complex? Tennis courts? Indoor pool?
Does your coffee shop offer free Wi-Fi? Public restrooms?
Google My Business Post
Every month there is something that happens on our business. A new client is added or a new service is launched or we have written a blog or an article or we have received some recognition. We can highlight all of these in post section of Google business listing.
Google My Business Reviews
Encourage your clients to write reviews. In fact I would go an extent to incentivize this. People do read reviews before they contact you. Engage with negative reviews too. We have written a blog exclusively on reviews. You can read it here.
Google My business hacks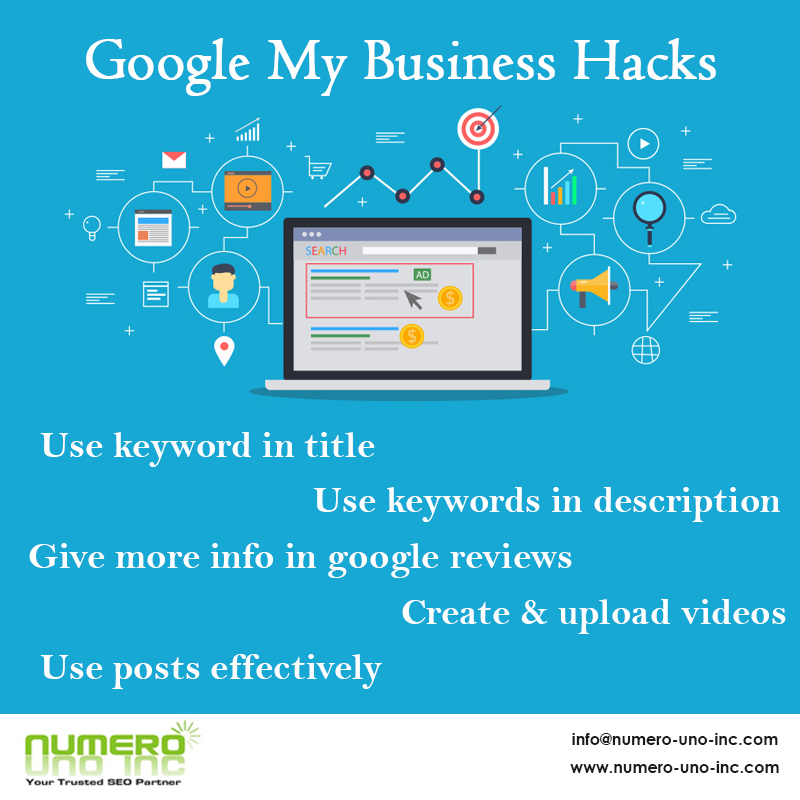 Everyone loves something extra & so here a few Hacks on Google Business Listing.
Use keyword in title
This is a very simple hack & used effectively to add a service line in your business name.
Use keywords in description
Description is where you can elaborate on your business & use it effectively to add important keywords to increase your chances of ranking higher for them on Google.
Give more info in Google reviews
Reviews is where most of the potential customers spend most time on. Use it to your advantage by having your key services & products mentioned by clients to make your listing more attractive.
Create & upload videos
Videos are very sparingly used by entrepreneurs to highlight their products or services. Having more videos on your Google Business Listing will make your listing more engaging. They will be more inclined to connect with you & do business.
Use posts effectively
I have highlighted this point above & would like to reiterate that here. Post is to be used to highlight any new service, products, award, blog or article & or recognition that you get.
I hope this blog was useful to you in understanding important Tips & hacks on your Google Business Listing.
Do comment on which tip or hack you will use or have used & have seen concrete results.
Do share your feedback with a comment & also other common issues on Google My Business that you would wish to seek our help. We shall try to revert asap.
Also share this article with your friends & colleagues & on your social media accounts which will motivate us to keep writing.
Best regards,
Hemant