Learn Few Tips on How to Rank Higher in Voice Search. Know the Importance of Voice Search & Reasons for Voice Search Importance. Ride the Voice Search Wave.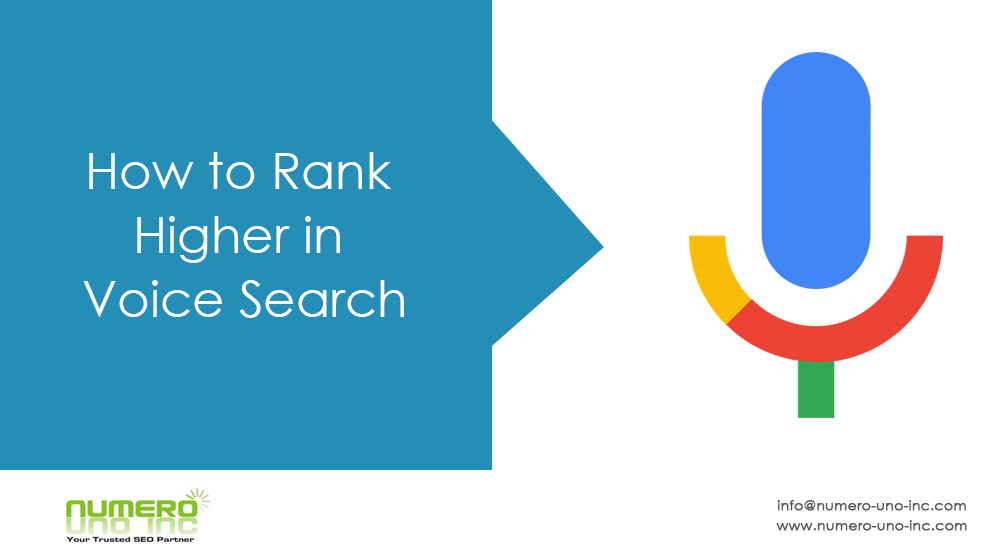 How to Rank Higher in Voice Search
One of the most frequent questions asked to us by our clients has been "How to Rank Higher in Voice Search?" Voice search has been around for some time now & Google has predicted it to increase even further exponentially.
Few Tips on How to Rank Higher in Voice Search
Long-tail keywords
Focus on answering questions
Consider the questions people are more likely to ask
Develop content with an informal tone
Try out voice search
We shall look at each of these in more details later but first let us understand the "Importance of Voice Search".
Importance of Voice Search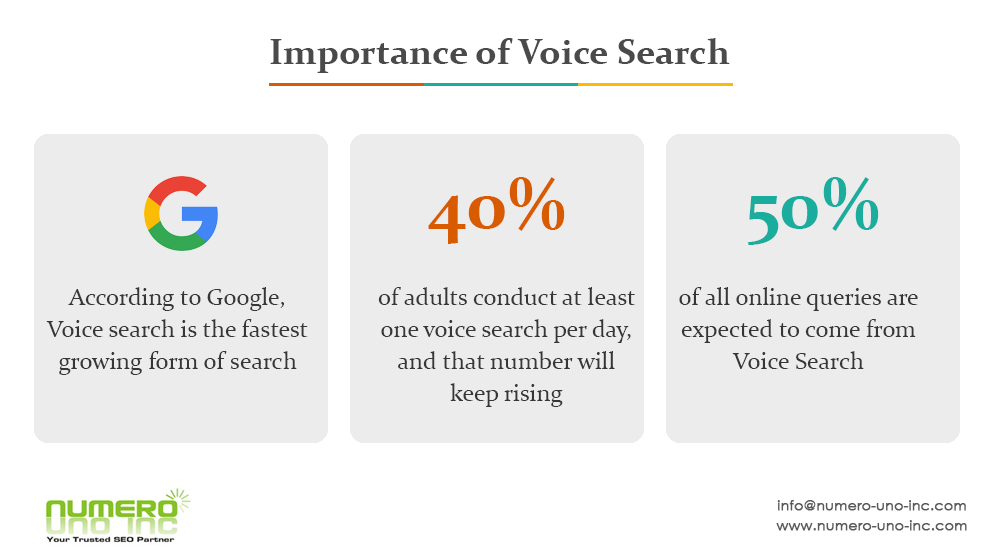 Google has already directly & indirectly indicated that voice search is the fastest growing form of search, and has accordingly invested heavily in it.
The statistics do support it too- as of 2017, about 41% of adults conduct at least one voice search per day, and that number will keep rising.
By 2020, voice search is expected to account for 50% of all online queries, which is up from 20% in 2016.
Reasons for Voice Search Importance
Below are some of the reasons listed as why voice search is importance :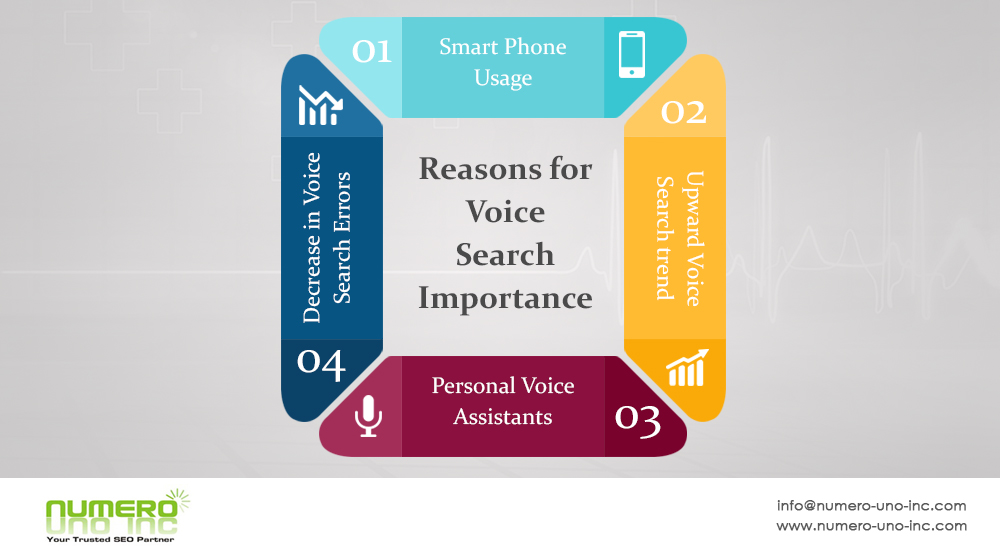 Smart Phone Usage


As more & more people start using smart smartphones, the voice search queries shall increase. Smartphone are being used while travelling & while multitasking too, then it becomes easier to voice search rather than type.

Upward Voice Search trend

Voice search has evolved so much over the years and earlier what seemed like a farfetched science fiction idea is now here. Star Trek Fans would recollect actors speaking to a computer device for answers, which once seemed like something that would never see the light of day. Today, voice search is commonplace, and it is exploding fast.

Personal Voice Assistants

Siri from Apple, Google Assistant, Cortana from Microsoft, Amazon Alexa etc. have become very common place now. They keep track of our search history & deliver a truly customized user experience. Facebook is also rumored to be coming out with its assistant in early 2019. This should make things interesting & we shall keep a close watch on it.

Decrease in Voice Search Errors

Earlier search results was erratic & hence not widely used. As Google Apple & others optimized the codes, errors have reduced drastically. Accordingly public acceptance has increased & Google expects it to become premier search type sooner than later.
Let's look at the tips given at the start of the article in more details.
How to Rank Higher in voice search
Tips to rank higher in voice search :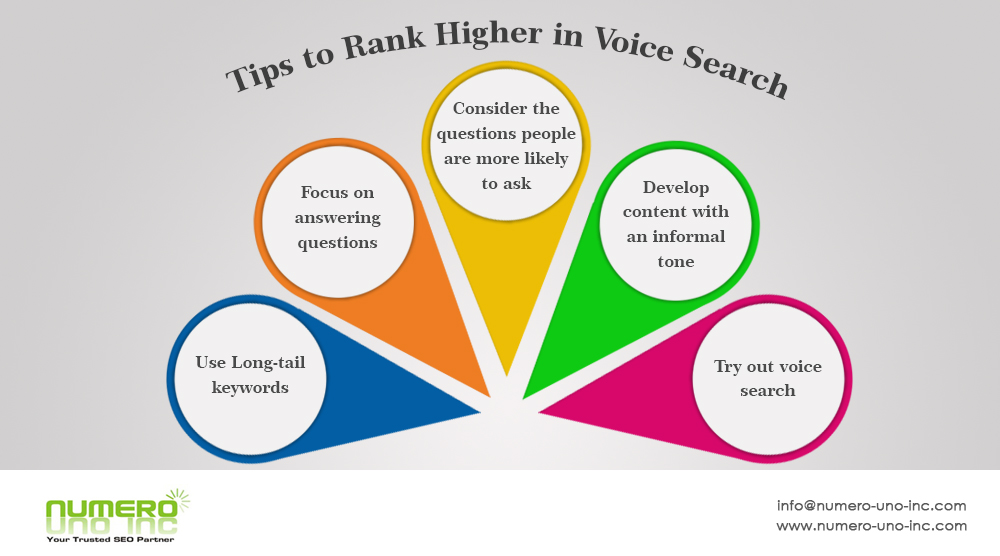 Long-tail keywords

As they don't have to type, people tend to speak more to get an exact match for their query. Thus using long tail keywords will be helpful.

Focus on answering questions

As discussed in earlier article on "How to get in Featured Snippets", if we try to give answers to question visitors are likely to search & accordingly write content, the chances of appearing higher in voice search increase drastically.

Consider the questions people are more likely to ask

When, Why, What, Who, Where & How become the leading type of questions visitors are likely to ask. Preparing content accordingly will surely rank you higher in voice search results.

Develop content with an informal tone

While trying to answer a question, consider you are speaking to a stranger & a novice. Be as simple as possible. Informal tone really helps to get higher ranking in voice search.

Try out voice search

Being practical always helps. Try what results pop up for voice search yourself. See how they have simplified content, the language & accordingly write your website content.
Do consider Voice Search as another opportunity much like mobile searches was some 4-5 years back. Make maximum use of it. Ride the wave to generate more visitors, leads & more customers for your business.
Hope you have liked the article and have got fair idea on "How to Rank in Voice Search".
Now that you also know the "Importance of Voice Search" & also "Few tips on How to Rank in Voice Search", you will write more articles & rank on Voice Search queries soon.
Do share the screenshots with us once you do rank on Voice Search results. It will encourage us that our efforts are adding value to our readers.
Do share your comments & views to help us better our content.
Also do share the article with your friends & your social media network.
We at Numero Uno always strive to and for our customers to Build Digital Assets & also increase their values.
Also we analyze their competitors, target audience & geography to have a customize strategy for building Digital Assets.
Do reach us at info@numero-uno-inc.com or at 9892378825.
Kindly read our other blog articles on SEO, Adwords, Social Media etc.
Share this article with your friends