How to do Social Bookmarking for SEO
How to do social bookmarking for seo benefit is probably a question many people have.Therefore,in this article you will get to know how to do social bookmarking for seo,its steps,what is its importance and list of some popular Social Bookmarking sites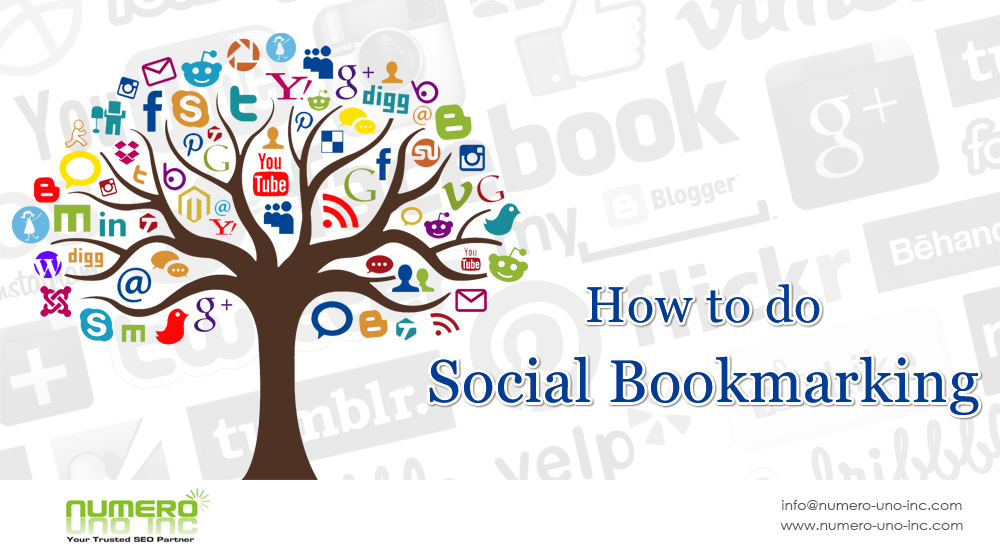 What is Social Bookmarking?
Social bookmarking sites permit you to save the url of a website that you are willing to visit again. Hence you have the freedom to view your bookmark from anywhere, as long as you have Internet.
While bookmarking, you are supposed to usually tag a page with help of keywords, for easy sorting, select who to share a bookmark with etc.
Why is Social Bookmarking important?
One of the main reasons to perform Social Bookmarking is for SEO purpose. Hence a bookmarking service can magnificently be utilized to drive more traffic to your website.
If done correctly it can provide huge benefits to your site and therefore will help you to attract more viewers to your site.
Most important point to remember is that when marketing done via social media should be done very carefully, so that you are not seen as a spammer or banned.
Apart from SEO, social media is an awesome marketing tool in itself, because once any post that is found interesting by your network results in growth of your popularity.
Benefits of Social Bookmarking
1) Increases Brand Awareness:
Social bookmarking helps you in increasing your brands awareness every time you utilize it properly.
2) Benefits in content promotion:
Social bookmarking is a great way by which you can rapidly reach your target audience & promote your business, service or product.
3) Quicker Indexing by Search Engine:
Social bookmarking sites are authoritative sites which are visited constantly by search engine spiders or web crawlers, so, by enlisting your sites link on them, you're able to notify Google swiftly about any new content on your site, which will ultimately lead to quicker indexing of your web pages.
4) Generate High-Quality Backlinks:
Social bookmarking sites play a huge role in letting your sites to earn quality backlinks from high ranking pages.
5) Build Strong Social Signals:
Search engines uses Social signals (likes & shares) as a recommendation. So through bookmarking feature & appropriate content, you are likely to make more likes, shares, comments, resulting in more brand trustworthiness and popularity of your website.
Some popular Social Bookmarking Site List with high PA and DA :
How to do Social Bookmarking for SEO?
Let's understand how to do social bookmarking for seo with the help of an example :
Firstly select a social bookmarking site,lets select diggo.com site. Login in to the site
Click on the plus symbol on right
You will be presented with four options Bookmark,Image,PDF,Note. Select the first one which is bookmark
 Enter the url you wish to bookmark for example : http://www.numero-uno-inc.com/search-engine-optimization.html  and click next.
Enter all the valid information regarding the url and click on add button
Your bookmark is created and saved .
Similarly you can bookmark more urls. The process might differ a little bit for other bookmarking sites but it's pretty straight forward and easy to understand,therefore it will help your site to gain more exposure in SERPs.
One more important point to note while doing social bookmarking is that you have liberty to use your main keyword in the titles and description as well as the images you use.
Hope that by now you might be well versed to the process of how to do social bookmarking for seo.
Important tips to keep in mind while doing Social Bookmarking:


Your content should be useful and attractive.
Utilize images and videos along with text.
You may bookmark other's pages too
Build as many network friends as possible.
Post on regular basis.
Social bookmarking sites may help you in getting huge benefit in terms of higher traffic .They will also benefit you by helping grow your SERP rankings.
At Numero Uno we can help you to create high authority backlinks to your website with the help of Social Bookmarking.
Don't forget to share this article with your friends.
Do share your comments at info@numero-uno-inc.com
Cheers,
Hemant
Kindly read our other blog articles on SEO, Adwords, Social Media etc.