Create Social Media Assets. Engage, care for followers & customers on social media, it will significantly increase the value of your Social Media Assets.
Create Social Media Assets
To understand how to Create Social Media Assets, lets first try to understand what are Digital Assets & what are Social Media Assets in particular.
In our blog on "How to Build Website Assets", we had mentioned that i had explained all our websites, email ids, blogs, subscribers, social accounts, followers, apps, downloads etc. are digital assets.
In our other blog, "What are Social Media Assets", we had described the types of social media assets namely for Facebook, Twitter, LinkedIn, Google Plus, Instagram & YouTube.
Social media is very important because most us are hooked on to them most of the time. Social media becomes all the more important for public figures like Celebrities, Politicians, and Brands etc. as they communicate with the large no. of followers directly. Infact some politicians prefer to use social media over main stream media as they feel that main stream media has a biased against them.
How To Create Social Media Assets –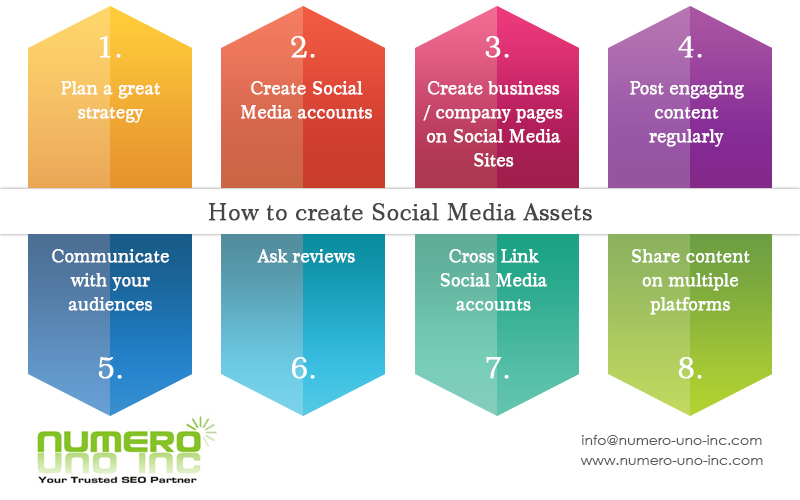 Creating a social media asset is to be done similarly like physical assets. You need to consider it as a strategy & pursue it with single minded focus with a long term view & approach.
It takes years & decades to build an assets like Properties, Plant & machinery, Cash reserve, Gold, Mutual Funds, Bank Deposits etc.. Similarly, Creating an Social Media assets will also take some time.
 Steps to Create Social Media Assets –
Strategize :


Plan the assets you want to build. If you are a B2b player then probably LinkedIn & Google plus will be more important whereas if you are in B2C domain then Facebook, Twitter & Instagram become a priority. YouTube is one asset which I would recommend to be built by all as it is the 2nd largest search engine & people are preferring videos over text reading.

Create Accounts :

Create accounts on all major social media sites especially on which you have decided to focus on. Social media sites allow you to customize the URL of your account, customize it so that you are easy to search & remember.

Pages :

Create Facebook & LinkedIn pages for companies & customize the urls too for easy remembrance & search. Google business listing is also important as more & more people are searching from mobile & look forward to nearby option.

Post Regularly :

Post regularly on your social accounts & pages information which may be useful to your friends & followers. Your blog articles or any service offering, branch opening should be rightly shared. Post images, visuals, graphs, and infographics to enhance engagement.

Engage Effectively :

Encourage a dialogue with your followers & friends. Ask them for their views & comments. Run contests, opinion polls, questionnaire etc. to further engage followers & friends.

Ask Reviews :

Ask the friends & followers to review your pages, share a comment or view on your services.

Cross Link:

Link Your social accounts with each other. Have your Twitter & Instagram account linked to Facebook, have Facebook, LinkedIn, Twitter, Instagram linked on YouTube videos etc.

Cross Engage :

Cross engaging your friends & followers on different social media assets. Share your Facebook post links on twitter, Instagram post links on twitter & Facebook etc.
"Rich do not Work for Money, They work to Build Assets" – Robert Kiyaski.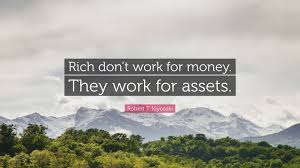 This saying has been the inspiration for this article & I firmly believe that if you focus on building assets by effectively engaging & caring for your friends, followers & customers on social media, it will significantly increase the value of your Social Media Assets.
So we hope by now that we have learnt  How to Create Social Media Assets, we shall look forward to your comments & views on the same.
Hope this article has been informative.
Don't forget to share this article with your friends & colleagues.
Subscribe to our blog to get the latest posts as soon as it is posted.
So do share your comments at info@numero-uno-inc.com
Kindly read our other blog articles on SEO, Adwords, Social Media etc
Cheers,
Hemant